1991 Japan HONDA Acty-street 660cc Van 5speed W-sunroof (USD:$3990)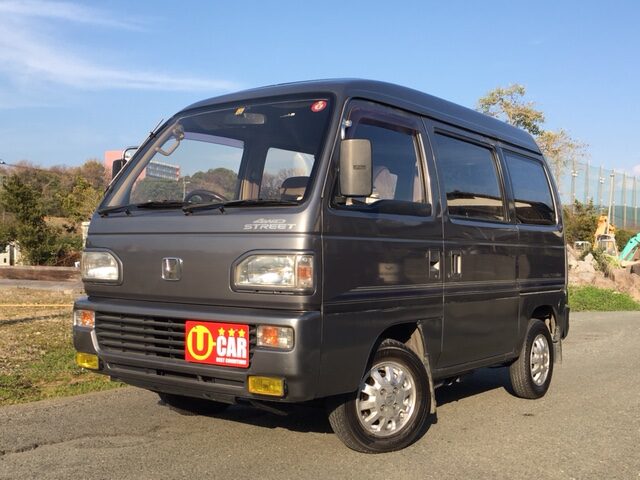 1991 Japan HONDA 4WD Acty-street 660cc Van 5speed Minitruck buggey
Useful for transporting agricultural land.
(Brand) HONDA (name) Acty-STREET VAN
(Year) 1991 (Mileage) 125301 km (78313 mile)
(fuel type) gasorin (Displacement) 660 cc 
(Body Color number)Silver :NH92M
There are few Acties equipped with a sunroof.
(length) 329 cm (129.5″ ) (width) 139 cm (105.7″ ) (height) 188 cm (115.6″) 
(length) 115 cm (45.2″) (width) 120 cm (47.2″) 
The second row of seats can be stored. 
The luggage compartment becomes wider by storing it.
(length) 200 cm (78.7″) (width) 120 cm (47.2″) 
(Equipment) Air conditioner,Radio,5speed manual,RWD,
The port to America is Long Beach or Vancouver.
The transportation cost of this size car is usd800.
Please confirm the procedure to make a smooth transaction.
① Please tell us your area and city name. →We will investigate shipping costs and ports and contact you. 
② Make an offer or purchase. 
③ Please pay the vehicle price and shipping cost. → Email you (Export certificate). 
④ You should look for a trading company at the port (company that performs customs clearance work: agent on behalf of the consignee) and contact us. →We make a reservation for the ship. (Data for the trade company that is the consignee is required to reserve a ship)
Hello. We are a Japanese company.
The company name is (MACRO JAPAN co., Ltd).
homepage https://macro-japan.jp/
We import and export automobiles, motorcycles, automobile parts and motorcycle parts.
We can provide products from Japan to countries around the world.
Please e-mail us with the name of the car you want.
We can search all over Japan and contact you.